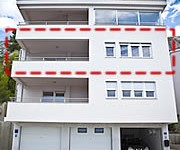 The apartment is located on the second floor of this new four-star built facility. It is equipped with air conditioning, a television, wireless Internet access. The kitchen is fully fitted with all the necessary appliances and other content; an oven, a cooker, a refrigerator and dishes. The apartment has two elegantly decorated bathrooms. It houses a maximum of 6 people; the first bedroom has a double bed, and the second has two beds one of which is a double bed. The living room has two sofas. The kitchen and the dining room have a beautiful balcony with a sea view. Also part of the apartment, on the north side, is a small garden planted with Dalmatian plants. The parking space is ensured on the ground floor of the apartment facility with stairs leading to the apartments.

AMENITIES PROVIDED
Category:


Capacity: 6 persons
Square footage: 90m2 + 14 m2
Floor: 2
View of the sea
Number of bedrooms: 2
Bedding: 4+2
Kitchen
Bathroom
Parking space
Linen and towels freshened every 7 days
Terrace/Balcony: 14.5 m2
Air conditioning
Television
Internet access
Kitchen essentials
Refrigerator: 120 liters
Freezer: 20 liters
Electric cooker
Gas cooker
Electric oven
Microwave
RATES
price on demand
All prices refer to the entire apartment per night. Rates do not change regardless of the number of people. The use of air conditioning, hot water and electricity is included in the price. Residence tax is also included in the price and there are no additional or covered costs. Upon departure, guests are not required to clean or tidy up the apartment.